Blog Feature
Bringing up baby … downtown
To keep families, more North American cities are turning to a suite of planning and design innovations, from play space to stroller ramps to adventure parks.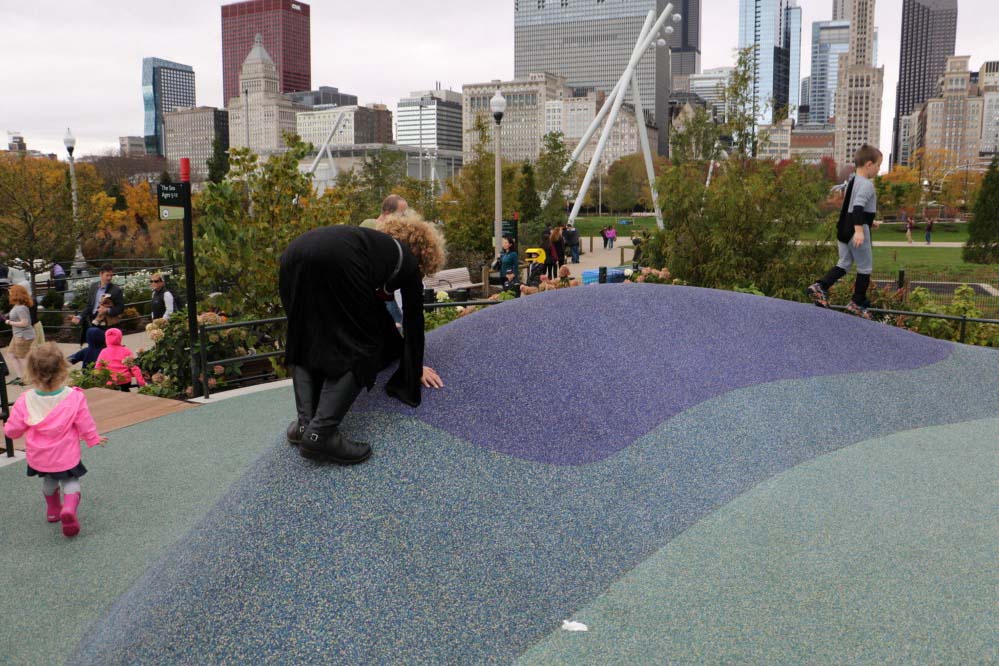 Emily Morrice lives with her husband and three young children in a 1,000-square-foot, two-bedroom condo in Montreal's Le Plateau-Mont-Royal, just north of downtown. It's a cozy neighborhood of tri-level apartment buildings, one-way streets, and small-scale retail, with plenty of parks and playgrounds. An elementary school is two blocks away, a metro stop three. The sidewalks are safe and the neighbors friendly.
There's just one problem.
"We know we're going to need more space eventually," says Morrice, who writes about her family's minimalist lifestyle on her blog, Our Nest in the City. "It's like a ticking time bomb — three teens in one bedroom is not going to work. But it's next to impossible to find a three-bedroom condo for under $1 million — and that's in Montreal, which is 'affordable!' "
The dilemma facing Morrice is a familiar one for families weighing the pros and cons of staying in the city. The recent wave of urban revival brought educated, childless professionals and small apartments back downtown; what it didn't always bring was sufficient investment in the affordable multi-bedroom units, playgrounds, schools, and childcare options that families require. But a diverse community needs kids as much as yoga studios, and a healthy tax base needs parents as much as young solos.
While progress has been slow, a handful of cities across North America are gradually becoming more family friendly. That effort requires some essential basics, such as better public schools and more housing options, but also a radical rethinking of all scales of urban life, from the housing unit to the building to the street to the neighborhood. A suite of planning and design innovations are aiming to keep families comfortable downtown: from simple fixes like movable apartment walls and stroller ramps at transit stations, to more structural advances like the co-location of childcare with other daily services.
"Everybody gets born, grows up, grows old, and eventually dies," says Mildred Warner, a professor of city and regional planning at Cornell University who focuses on how cities can plan for people of all ages. "We need communities where you can be for the whole lifecycle."
The Apartment: Not Just Bigger But Flexible
Ask anyone who has spent much time thinking about family-friendly cities, and they will immediately point to Vancouver as North America's frontrunner. Back in 1992, the city council adopted guidelines on "High Density Housing for Families with Children." The guidelines emphasized proximity to schools, playgrounds, childcare, grocery stores, and other core family services; they also touted family-friendly building elements, such as semi-private common space for play and a critical mass of family-sized units per building.
Without regulation to enforce these concepts, developers had little incentive to build multi-bedroom units, which are generally less profitable by the square foot than studios or one-bedrooms. So in 2012, Vancouver began requiring 25 percent of units in new market-rate developments to have at least two bedrooms. In 2016, it added the mandate that an additional 10 percent have at least three bedrooms. The rules seem to be helping: today, an estimated 7,000 children live downtown, roughly four times as many as 30 years ago. A new public elementary school that opened downtown last year is already oversubscribed.
So what does a family-friendly unit look like? It's not just bigger; families have different requirements from, say, adult roommates. Young children need play space in an apartment's common areas, and entry areas that allow for the likes of muddy boots and strollers (which some squeezed urban families have been known to store in the bathtub). A visual connection between the kitchen and living room facilitates supervision and improves togetherness. Teens are less likely to tolerate shared bedrooms, and they'll need quiet study space.
In short, unit flexibility is key, and design innovations that allow families to adapt their apartments to changing needs will help them grow in place. Swedish furniture giant Ikea has been experimenting with sliding walls designed to make small apartments feel larger by maximizing the number of uses for a given room. In Europe, boutique architecture firms are exploring ways to maximize small spaces by creating fold-away furniture (including high-end takes on the Murphy bed). Such technology could be used to transform common areas into additional bedrooms as children age, or to allow for play spaces that can become adult lounge areas after the kids are in bed.
While truly family-oriented developments remain rare, a handful of examples offer inspiration. One is 150 Dan Leckie Way, a 428-unit public rental development in Toronto's CityPlace neighborhood, where more than 90 percent of units have at least two bedrooms, and 13 percent have four. The 2013 development — highlighted as a case study by Toronto's recent draft guidelines, "Growing Up: Planning for Children in New Vertical Communities" — designs family-friendliness into the building itself.
A low-rise podium section contains the largest units, several of which are two-story, with internal stairs — a layout that increases available residential space, because it eliminates external hallways on certain floors. On other floors, a wide, windowed corridor provides space for play and socialization to spill out of front doors. Strollers and scooters can be tucked away in storage areas off each apartment's foyer, and amenities like a game room and courtyard play space ensure older children can hang out under passive supervision from adults going about their own daily activities.
The Street: Stroller-Safe and Kid-Friendly
Even the nicest building may not be enough to keep a family in the city. Once out the front door, parents worry about safety, and busy, car-oriented streets don't inspire confidence. That's why some cities are beginning to think about how to make it easier and safer for families and children to get around — and finding inspiration in Europe, where raising children in the city is more commonplace.
In Stockholm, ramps are built into staircases at transit stations and parks to help push strollers, wheelchairs, or bicycles up and down. Paris has taken space from vehicular lanes to widen sidewalks and add trees, creating physical — and psychological — buffers between pedestrians and traffic. Chicago recently adapted the Dutch concept of a "woonerf" for its redesign of a commercial street in the Uptown neighborhood. This shared-streets model takes the radical step (for North America, at least) of forcing cars to slow down and safely coexist with pedestrians and cyclists, rather than shunting non-motorized modes to the side of a street. And although parents might initially be reluctant to let their children share space with vehicles, it's an approach that studies have shown can increase safety while decreasing traffic.
Since 2009, the city of Boulder, Colorado, has taken a novel approach to planning safer streets for kids: asking kids themselves what they want. The "Growing Up Boulder" program at the University of Colorado has led to real change in the city of 108,000, from a new bench at a bus stop near an elementary school (requested by second-graders in a transit study) to better lighting for underpasses that teens use on the way to school. Protected cycling pathways are one of children's most consistent requests; they crave the independence that bikes an afford them, but just like their parents, they want to be safe from cars. And thanks to input from kids, Boulder has incorporated the idea into its transportation master plan.
Beyond safe ways to get around, families also need different services than singles do — chief among them, childcare. That can be hard to find in the city, thanks to high rents and zoning restrictions. As a result, many parents end up driving to one side of town to drop off their children every morning, only to drive back across to work.
Some municipalities and transit agencies have started to address this gap by repurposing public land for the co-location of transit and childcare services. In San Jose, the Santa Clara Valley Transportation Authority built a childcare facility next to a multimodal station. Cleveland placed a Head Start that serves 300 children from low-income families next to a transit hub. In each case, the scheme is both family friendly and environmentally sound, because it eliminates an extra trip to daycare that might otherwise require a car.
"Cities are trying to get people to take transit, they're putting houses and jobs close together, but often they leave childcare out of the equation," says Kristen Anderson, a childcare planning consultant based in Silicon Valley. "We're trying to make that connection and keep childcare a part of the conversation about housing and jobs and transit."
The Neighborhood: Creative Parks and Data-Driven Play
One more thing multi-family units in dense cities lack is a big backyard to play in — and that's why investing in public space is crucial if cities want to attract and keep families.
Play experts — not to mention kids themselves — have long criticized the drabness of many American playgrounds, with their predictable swings, slides, and prefab plastic structures, all designed to maximize safety rather than fun. They point to playgrounds in Europe, which incorporate diverse and even risky elements like zip lines, boulders, water features, and towering slides, as better at providing opportunities for creative play, especially for older children. Using video data analysis, the play design firm Studio Ludo has found that parks in London have 55 percent more visitors than those in comparable U.S. cities, in large part because more adventurous elements such as tree houses or giant slides attract wider age ranges.
In the United States, one of the most innovative playgrounds to open in recent years is the three-acre Play Garden in Chicago's Maggie Daley Park, which includes a sea-themed area complete with a concrete whale and a full-size ship, a maze of wooden pathways that lead through an "enchanted forest," a suspension bridge, and extra-tall slides that have proven popular with adults as well as children. In Memphis, the Woodland Discovery Playground at Shelby Farms Park includes sand, water, a castle, and plenty of room to explore — along with moveable deck chairs that allow parents to supervise and socialize.
New York has long been a leader when it comes to creative playgrounds. One of the most innovative to appear in recent years is the Imagination Playground at the South Street Seaport, where children can build structures of their own devising out of large, interlocking foam pieces. The Imagination Playground in a Box extends this concept across the city, bringing a wheeled container of foam blocks, sand tools, and "found items" — tarps, fabric, milk crates — to different parks during the summer.
With kids living in nearly 30 percent of households, New York has a greater proportion of families than any other high-density city in the country. Parks Commissioner Mitchell Silver, who is midway through a $285-million project to revamp 67 of the city's smaller community parks, believes that investing in public space has helped New York retain this diverse population.
"In the city, public space serves as a backyard," he says. "It's where people connect. Parks are places for festivals, for people to fall in love. They're where people go to relax. People may sleep in their apartments, but the parks are where they go to live. So to be a child-friendly city, you need to offer those places."
The City: "Parents Care"
Families belong in the city as much as anyone else — and pushing them out to the suburbs represents an injustice as well as a lost opportunity. Emily Morrice and her husband are determined not to leave downtown Montreal as their kids grow up. Moving to the suburbs, she believes, would mean exchanging a "Sesame Street" feel for isolated backyards where no one knows their neighbors.
Still, the question of housing weighs on her.
"It seems like cities are pushing out families by not providing enough bedrooms, by allowing increasing housing costs," Morrice says. "But actually, I feel like it's working against what they want. As a young single, I didn't care when I saw, say, garbage on the sidewalk. But now, as a parent, it's like, 'No, this is where my kids are growing up!' Parents care, and they are the most dependable, stable, faithful citizens you're going to get, so you should be doing your best to keep them."
Amy Crawford is a freelance writer living in Ann Arbor, Michigan.