Real Estate Development
How will retail impact the street life of our future cities?
With retail changing in the digital age, we held a Sidewalk Talk to discuss how to help that transformation have a positive, inclusive impact on the public realm.
By Vanessa Quirk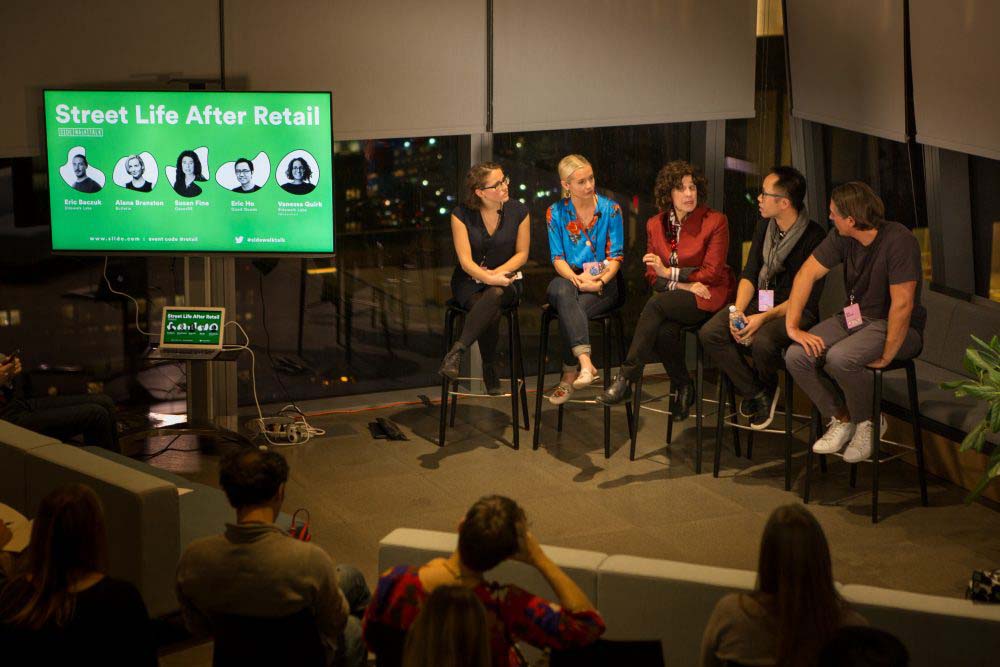 On November 15, 2017, we hosted a Sidewalk Talk that brought urbanists, technologists, and retailers to our Hudson Yards home to discuss how retail can and should impact the street life of our future cities.
The night began with a presentation by Sidewalk Labs' Designer-in-Residence Eric Baczuk, who outlined the current dilemma of high-rent blight in New York City (which has clearly negatively impacted urban street life) and then presented five provocative scenarios for the future of urban retail.
Eric was then joined by a group of experts, who each brought a unique perspective to the question of retail's future:
-   Alana Branston, co-founder and CEO of Bulletin, a start-up that gives internet brands the opportunity to sell their products and host in-store experiences in the physical world.
-   Susan Fine, principal of OasesRE, who recently navigated the hurdles of leasing, building, and managing Turnstyle, an underground marketplace at Columbus Circle.
-   Eric Ho, co-founder of  MILES, which creates commercial storefront spaces for makers, entrepreneurs, and community, and Good Goods, a collaborative retail model for shared urban spaces.
-   Vanessa Quirk, Editorial Manager at Sidewalk Labs
The conversation spanned the challenges retailers face, particularly in terms of zoning and regulations, to plug-and-play design methods and technologies that could potentially activate retail space and street life, to the intimate relationship between a vibrant public realm and healthy ground-floor retail. You can watch the whole video of the conversation below or check out our Storify of the night here.