Mass Timber Buildings
Introducing PMX: Our model for how tall timber buildings could work in cities
We spent last year creating a digital proof-of-concept for how to design and manufacture a tall timber building. This two-part blog series unpacks our key findings.
By Cara Eckholm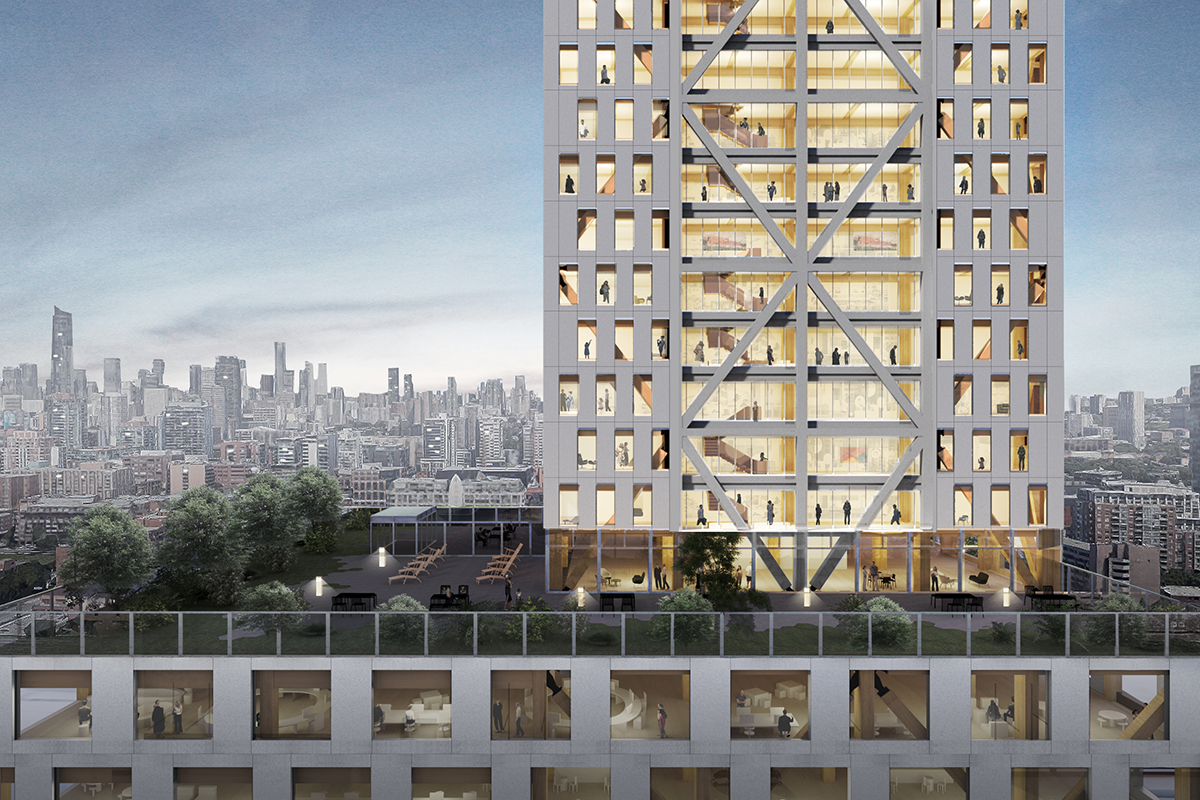 Timber was once the dominant material for constructing new buildings, with early timber structures dating as far back as the Neolithic Age. Yet timber fell out of favor in the late-19th century when steel and concrete gave buildings the strength to soar to new heights.
Today, timber is staging a comeback in the form of a new fire-resistant super wood known as "mass timber," a building material made of wood pieces compressed together in a factory to create thick beams, columns, and panels. This resurgence is driven in part by environmental advocates, some of whom have highlighted mass timber's potential to help fight global climate change. Developers are also interested in how mass timber building parts lend themselves to efficient factory production, which can save time (and therefore cost) over existing on-site construction methods.
These factors have spurred development projects that seek to incorporate mass timber into high-rise buildings. In fact, two 18-story mass timber buildings recently opened: one outside of Oslo, another in Vancouver.
To explore how factory-produced timber buildings can grow even taller, we designed a mass timber proto-model at 35 stories — a height that's yet to be achieved in practice. We call this project Proto-Model X, or PMX.
What's a proto-model, you ask? It's essentially a digital proof-of-concept that stands in for a real building and provides insights into its hypothetical performance. The concept is borrowed from manufacturing, where it's common to design one perfect "widget" before producing them en masse in a factory. With PMX, our "widget" is a 3D building model rendered in Autodesk's Revit, a popular building design software, and hosted in BIM 360, a cloud-based tool that stores technical information about the building.
PMX was developed through collaboration with a world-class team of architects, engineers, and environmental designers, many of whom are emerging leaders in the field of mass timber buildings. Together, we advanced the building through eight key steps (see graphic), ultimately resulting in a basic building design.
After a year of hard work on PMX, we're excited to share some of our findings. We hope PMX serves as a valuable proof-of-concept, helping to accelerate interest in this transformative technology.
The PMX team wishes to thank the exceptional consultants who have helped make this work possible: Aercoustics, Aspect Structural Engineers, Atelier Ten, CadMakers, Gensler, Integral, JE Dunn Construction, Michael Green Architecture, RDH, Sweco, and Vortex Fire. If you're a developer or timber professional who wants to work together on advancing tall timber building design, contact the Sidewalk Labs buildings team at factory@sidewalklabs.com.